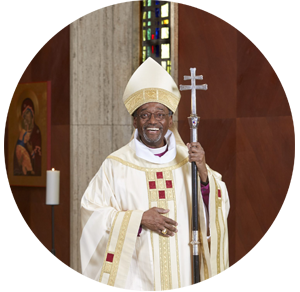 The 2022 Annual Convention of the Diocese of North Dakota will be held in Fargo October 21-22, 2022, followed by the celebration of the 150th anniversary of the establishment of Gethsemane Cathedral. The Most Reverend Michael Curry, Presiding Bishop of The Episcopal Church will be the special guest of both events.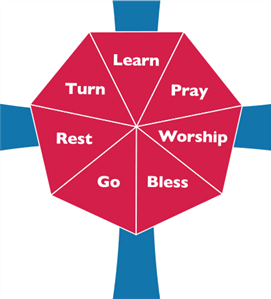 Theme: Living into the Way of Love
Nomination Form
Positions that are open for election:
1 Lay Standing Committee term
1 Clergy Standing Committee term
2 East Region Council terms
2 West Region Council terms
Secretary of Convention
Treasurer of the Diocese
4 Lay General Convention Deputies
4 Clergy General Convention Deputies
Email Delegates to Jess
Delegates
Each congregation is entitled to bring a certain amount of delegates based on the number of communicants in good standing. (A communicant in good standing is someone who for the previous year has been faithful in worship, unless for good cause prevented, and has been faithful in working, praying, and giving for the spread of the Kingdom of God.) Please send in the list of delegates from your congregation.
Delegates shall be appointed by the Vestry if the election is not held at the annual meeting or a special meeting. (Canon 8.4f)
Ramada by Wyndham website
Ramada Hotel Information
3333 13th Avenue S
Fargo, ND  58103
701-526-8096 or 701-235-3333
Book your hotel room by calling the Ramada. Mention the "Episcopal Diocese of North Dakota" to be reserved in our room block.
Resolutions
Resolutions are due to the Diocesan Office by August 21st. Click here to email them to the Diocesan Office.
Special Guest

The Most Rev. Michael Curry, our Presiding Bishop, will be visiting the Diocese of North Dakota on October 21-24. He will be attending our Diocesan Convention and celebrate with the Cathedral Congregation at their 150th Anniversary. Evensong will be held at the Cathedral following Convention on Saturday at 4:30pm, with a reception to follow.
Watch Gethsemane's website for further updates about the Presiding Bishop's schedule at Gethsemane.
Workshops
(all workshops will be offered at 2pm and 3:30pm on Friday, October 21st)
Native Spirituality: Loving the Way of Love through Christ and Culture
Creation Care: Living the Way of Love through Care of Creation
Reconciliation: Living the Way of Love through Reconciliation, Reparations, and the Restorative Power of Ceremony
Christian Formation: Living the Way of Love through Christian Formation
Friday, October 21st Schedule
12:00pm – NDCIM Lunch
1:30pm – Gathering Plenary
2:00pm – Workshops
3:15pm – Break
3:30pm – Workshops
4:45pm – Break
5:00pm – NDCIM meets with Presiding Bishop
5:30pm – Social
5:30pm – Friends of Bill meeting
6:30pm – Dinner, Presiding Bishop's address, Compline
Saturday, October 22nd Schedule
8:30am – Eucharist (w/ Presiding Bishop
10:00am — Break
10:30am – Convention Business (beginning with Bishop's address)
12:30pm – Lunch & East/West Meetings
1:30pm – Reconvene, Convention Business
4:30pm – Evensong at Gethsemane Cathedral (with the Presiding Bishop)
Donate
Support us and help foster our community of faith and ministries of all the baptized across the Diocese.
Donate