The 2023 Annual Convention of the Diocese of North Dakota will be held in Mandan October 27-28, 2023.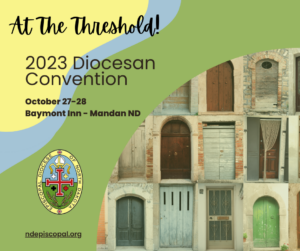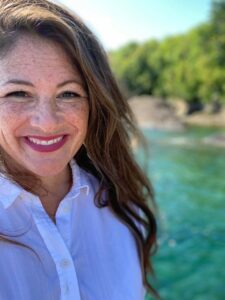 We are excited to welcome the Rev. Lydia Kelsey Bucklin. Lydia will offer the workshop on Mutual Ministry and the sermon at the Eucharist.
Lydia Kelsey Bucklin serves as Canon to the Ordinary in the Episcopal Diocese of Northern Michigan and Senior Advisor to the Mutual Ministry Initiative at Virginia Theological Seminary. Lydia was formed from a young age in baptismal, collaborative ministry and works with communities in the Upper Peninsula of Michigan in areas of redevelopment, formation, new expressions of faith communities, and baptismal ministry. In her role at Virginia Theological Seminary, Lydia works with the department of Lifelong Learning to enhance theological education with the training and skills needed for today's church, in which the ministry of all the baptized is crucial. Previously, Lydia served the Episcopal Diocese of Iowa for 11 years, in the areas of children & youth, young adults, communications, evangelism, and new initiatives, including co-founding the "Breaking Bread" community, a church plant in the Des Moines area. As a 2021 Luther Seminary Seeds Fellow, Lydia was selected as an "entrepreneurial ministry leader engaging in ministry at the intersection of Gospel and culture."
Nominations
Note that position descriptions are on page two of the PDF.
Nomination Form
Positions that are open for election:
1 Lay Standing Committee term (3-yr. term)
1 Clergy Standing Committee term (3-yr. term)
1 Clergy Standing Committee term (2-yr. term)
2 East Region Council terms
2 West Region Council terms
Secretary of Convention
Treasurer of the Diocese
4 Lay General Convention Deputy Alternates
4 Clergy General Convention Deputy Alternates
Hotel Information

The Convention will take place at the Baymont Inn in Mandan, ND.
2611 Old Red Trail
Mandan, ND  58554
To make a reservation, please call 701-663-7401. Mention the "Episcopal Diocese of North Dakota Convention" to be reserved in our room block.
Baymont Inn - Mandan
Display Tables

If you would like a display table at our 2023 Convention, please contact the Diocesan Office to ensure your space is reserved!
Friday, October 27th – Schedule

11:00am ~ Registration Opens
11:30am ~ NDCIM Lunch
1:30pm ~ Opening Plenary
2:00pm ~ New Season of Ministry
3:30pm ~ Workshop Session #1
4:30pm ~ Workshop Session #2
5:30pm ~ Social Hour
5:30pm ~ Friends of Bill meeting
6:30pm ~ Dinner
7:30pm ~ Bishop's Address
8:15pm ~ Night Prayer
Saturday, October 28 – Schedule

7:30am ~ Registration Opens
8:30am ~ Eucharist
10:00am ~ Break
10:30am ~ Convention Business
12:30pm ~ Lunch & East/West Meetings
1:30pm ~ Reconvene—Convention Business
3:00pm ~ Anticipated Adjournment
Workshops
Mutual Ministry for Today's Church: This workshop will focus on the history, theology, and practical implications of the Mutual Ministry movement in the church over the past 40+ years. Mutual Ministry, also known as Baptismal Ministry or Total Ministry, is about equipping people to live out the promises of baptism, both within the church gathered and the church scattered into the world of everyday living. (Offered at 3:30pm and 4:30pm)
Native Americans – Celebrating Tribal Diversity: This workshop will feature brief presentations and discussion by Indigenous leaders from each of the four Reservations in North Dakota where the Episcopal Church is engaged in active ministry. These include Spirit Lake, Fort Berthold, Turtle Mountain, and Standing Rock. Come and learn about some differences and similarities in culture, language, customs, spiritual practices, and how the Episcopal Church is engaged in ministry with and among the people living in these places. (Offered at 3:30pm and 4:30pm)
Understanding the Native American Boarding School Reality: Both the Executive Council and the General Convention of The Episcopal Church have adopted resolutions establishing committees related to the Native American Boarding School crisis. The Diocese of North Dakota is honored to have a member on each of these committees. Come and learn more about the historical realities and continuing issues associated with this difficult chapter in the lives of our indigenous sisters and brothers, including the role of The Episcopal Church, as well as other religious and governmental entities. (Offered at 3:30pm and 4:30pm)
Workshops

Creation Care: The Creation Care Committee wants to spread the message of caring for God's good earth to your congregation! This year, St. Stephen's, Fargo created a "Green Team" and we hope to encourage others to do the same by providing support, resources, and infrastructure in doing so. Through this program, we hope to bring to the table more Creation Care centered liturgy, eco-friendly churches, and general excitement and education about nature, gardening, and ecojustice. (Offered at 3:30pm)
Black Elk's Life Speaks: "That Much…More": Black Elk's story is remarkable on several levels and inspires many. While the cannon of Black Elk literature is established, there would appear to be a gap in terms of how Black Elk's life speaks through his familial descendants, who, when consulted about what has been written about Black Elk, due to their knowledge of stories based on familial accounts of Black Elk, stipulated his life speaks "that much … more." Based on the author Mike Taylor's research endeavor and two years of interviews with Black Elk's great-great-great grandson, Maka Black Elk, Black Elk's Life Speaks: "That Much…More" explores how Black Elk's life speaks.  The publication and Taylor's presentations internationally integrate personal life journeys, narratives, and participant researcher interviews and experiences to highlight historical, anthropological, and contemporary perceptions of Black Elk in particular and Native people in general. In addition, it considers the implications of how Black Elk's life continues to speak in the face of historical trauma, survivance, and cultural healing through additional familial and related stories as the educator, culture bearer, and "old man" dreamer and visionary. (Offered at 4:30pm)
Donate
Support us and help foster our community of faith and ministries of all the baptized across the Diocese.
Donate