Submitted by Donna Pettit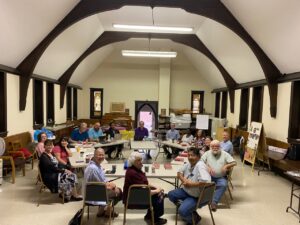 Diocesan Council met in person at Church of the Advent in Devils Lake On July 22-23, 2022. Before I say anything about the meeting I would like to express our gratitude and appreciation to the Advent members who hosted and fed us during the meeting. They were so gracious and thoughtful; we felt very welcomed.
The meeting began with devotions and sharing of our summer highlights. Happily everyone had a highlight they were glad to share and we each know a bit more about each other by sharing happy moments.  The rest of the evening was spent on a presentation from Bishop Ely on the organization of our diocesan structure. If we are about to make decisions about our future and how to move ahead, we need to understand the present structure and how it works. His PowerPoint presentation made the organization very clear and to see it laid out was helpful to all of us. After viewing and discussing the presentation, we broke into three groups where we shared ideas about our hopes for the future, questions we had and concerns about how to move forward. These comments will be shared with the New Season of Ministry Task Force as they begin their work.
On Saturday morning we began with the first of two budget items. First we discussed the 2022 Budget to date and Year to date narrative. We are half way through the budget year. While, as we all know, money issues are volatile now, we are doing OK. OK to me means not wonderfully well but not alarmingly poorly. As the year plays out we anticipate having funds available to use that will cover our needs. My take is the Treasurer and Finance Committee are on top of what is occurring and ready to take necessary actions. Council received the budget report, subject to audit. This is the terminology for saying we have studied the budget, approve what is happening and know it goes to the auditor at year end.
Then we heard reports from committees and had a chance to ask questions. This consists of lots of questions and conversations; some of it is fruitful and some just helps us understand better how things work. We also discussed some plans for Diocesan convention workshops and activities.
After lunch we tackled the second big budget issue which was the 2023-2024 Budget. This is the first time we are trying to set a budget for 2 years. We discussed some of the issues with Cost of Living, Insurance, the General Convention Grant for Native Ministry, and other pesky details required for budgets but which are not presently known in dollar amounts. Again, every time we go through this we learn more about the budgeting process and the money held by the diocese. I think next time we have a Council meeting, my report to you should include a few words on …if the diocese has x number of dollars how come we can't spend all of them however we want. Anyway we are getting the budget closer to approval at Convention and again Charlotte and the Finance Committee are doing a good job of getting the information needed for the budget.
Several other projects to be presented at Convention were discussed and can be announced when plans are firmer.