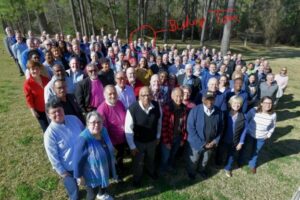 133 bishops and bishops-elect attended a House of Bishops meeting at Camp Allen, near Navasota, Texas, March 15-21. Photo: Frank Logue
I recently attended the Spring meeting/retreat of the House of Bishops of The Episcopal Church – our first in-person meeting in over two years! It was a spiritually uplifting time of reconnecting with colleagues and meeting several new bishops for the first time. The week was punctuated by prayer and worship, reflections by several colleagues on daily "H" themes: Hunger, Honest, Humble, Hopeful, Hospitable. We also had two sessions with Cynthia Bourgeault, founding teacher of The Contemplative Society. The theme of her presentations was: Kenosis and Christic Wisdom for a World Falling Apart." If you don't know Cynthia, here is a link to The Contemplative Society: https://www.contemplative.org/teachers/
There were also several presentations and table conversations related to racial healing, reckoning, and reconciliation. Five bishops from the dioceses of Olympia, Maryland, Northwestern Pennsylvania and Western New York, Colombia, and South Carolina offered a variety of stories from their dioceses of the difficult, painful—but essential—work of truth and reconciliation. These featured stories focused on race, the indigenous residential boarding school revelations in Canada and the US, sexual abuse and exploitation, and dioceses addressing various topics related to past, present, and future issues. I listened and reflected with the colleagues at my table group about how all these matters relate to our life in the Diocese of North Dakota, especially as we engaged this new season of ministry and look to our future.
There was an orientation to the upcoming General Convention and Lambeth Conference. I will be attending General Convention with our North Dakota Deputation, however I will not be attending the Lambeth Conference, since the dates conflict with a long-standing family holiday booked well before I accepted the position of Bishop Provisional in North Dakota. I have spoken with Bishop Jonathan Folts from the Diocese of South Dakota, and he will be sharing his reflections from Lambeth with us, for which I am most grateful. In addition, Joshua Floberg will be a Steward at the Lambeth Conference, so hopefully he will bring back some reflections from his time there.
In addition to the great hospitality at Camp Allen, there was sabbath time and plenty of time between sessions for individual conversation, as well as small and larger group "self-organizing" gatherings focused on a variety of topics. The bishops met one day in Province groups for lunch and so it was great to connect in person with the other bishops of Province VI (Colorado, Montana, South Dakota, North Dakota, Nebraska, Wyoming, Minnesota, and Iowa).
Several resolutions and documents were acted upon during the business meeting and I commend each of these to you for your reading and reflection:
Finally, here are reports on the meeting from The Episcopal Church Office of Public Affairs and Episcopal News Service: