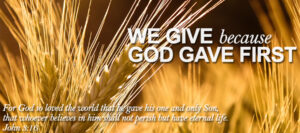 Please Remember the Church in Year-End Giving
"Giving Tuesday" was held on November 29, 2022 in the secular world, reminding us of the importance of sharing our blessings in this time of Thanksgiving and gift-buying. As you make your year-end gifts to worthwhile causes, please remember your congregation and the Diocese of North Dakota, whether fulfilling an annual pledge or making an additional contribution to support the ministry of the church and give thanks for its presence in your life. Check with your congregation's treasurer if you need information about giving to your local church.
Gifts to the Diocese help support the work of the bishop, Ministry Support Team, indigenous ministries, and the common life of our Episcopal community throughout the diocese, as well as the wider church through our covenant commitment to The Episcopal Church. These gifts should not take the place of giving to local congregations but can be a way to add to your local support in a way that helps spread the Good News of God through our Episcopal presence. Gifts can be made online here or by sending a check to the Diocese of North Dakota.